My heart is over joyed each time I have contact with my clients that graduated from your programs to see the growth that each of them have made. It is a blessing that I have a referral source for my clients to help them move forward with their lives. Thank you for your diligence in your quest to empower survivors.—Walter Shields, Domestic Violence Advocate, Center for Community Solutions
Women are usually referred by a program manager, case manager, or therapist at one of our Community Partner organizations for admission to our programs. These are organizations serving women and families in transition which provide:
Shelter and counseling for domestic violence victims
Transitional housing
Mental health services
Recovery programs for alcohol and drug addiction
Residential treatment for women coming out of prison
Spiritual support
To determine if your client is ready to attend and successfully complete Leap to Confidence, please use this Readiness Checklist with your client: Leap to Confidence Readiness Checklist
Individuals
To attend a program please contact your case manager to register you for an upcoming program.
If you are in need, and are not receiving services or counseling, please contact one of our San Diego partners or visit our Domestic Violence Resources page.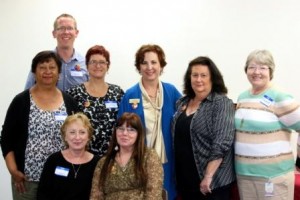 Organizations
To become a community partner, please
Our programs are available to be delivered inside of a community partner agency.