Stepping Up, Speaking Out, and Changing the World
Graduates Empower the Community
Jill lived on the streets for over 10 years. A once successful woman who lost two husbands, she lost hope and turned to alcohol to numb the pain. It took time and wasn't easy, but today Jill is working full-time and living in her own apartment. Jill is a true success story and one of our inspiring graduate speakers.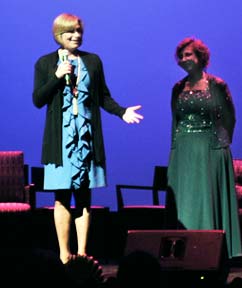 There is nothing as inspiring as hearing first-hand from a woman who has changed her life—who has left an abusive relationship or said "no more" to drugs, or alcohol and is now saying "yes" to life.
Our graduates have touched thousands of lives as they have shared their stories to large and small audiences. Graduates of Transformation Leadership are part of our sisterhood of community speakers.
Our graduates are available to speak at shelters, schools, corporate functions, service clubs, religious organizations, and to the media.
Invite us to come and share our message of hope, possibility, and turning one's life around.
Topics include:
Letting My Voice and Story Be Heard
Domestic Violence Awareness and Warning Signs
Making New Choices to Change Your Life
Tools for Successful Living
---
Community Update
The graduates have shared their stories to thousands of people in the community in an effort to lead and inspire women to live their best lives and educate the community about domestic violence and how to overcome other adversities.
Leap to Success Graduates have spoken for the following audiences:
California Western School of Law
California State University San Marcos
Monarch School (homeless students)
Naval Consolidated Brig Miramar (annually to female prisoners)
8th Annual International Family Justice Center Conference
The Vagina Monologues
Soroptimist International
Women Changing the World
Safe Start Conference, San Diego
San Diego City Council
St. Vincent de Paul Workforce Housing Program-Women's Empowerment Group
YWCA San Diego Centennial Gala
On TV, Radio and More
The members of the Graduate Speaker's Bureau have been featured more than a dozen times in local TV news stories and radio interviews, and have also been chair and co-chair the San Diego Family Justice Center VOICES Committee and serve on the California Family Justice Initiative Advisory Committee. Two graduates are currently on the Leap to Success Advisory Council.
Please contact Dana Bristol-Smith to learn more about having our graduates come speak to your school or organization.