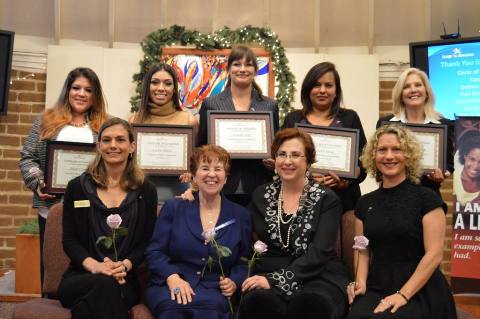 "Today, I am living my dream and I see adversity as an opportunity. I have a God who loves me, my family and friends who support me. My vision is to continue to be a part of the solution not the problem by remaining drug-free one day at a time."—Brenda
Transformation Leadership is a journey of learning, empowerment, and giving back to the community.
In the first phase—Learning—you become part of a supportive team of women working together to bring out the best in each other. Through weekly classroom sessions, you'll learn life-changing skills and tools, and will have your own personal success coach. You'll put these skills into practice, and watch how beautifully your life improves.
Giving Back is phase two. Here's where you'll share what you've learned to educate and empower others in the community. You'll speak at domestic violence and homeless shelters, schools and organizations helping women find their inner strength. By sharing your story you will inspire others.
You'll become part of a powerful community of women who:
Set a new course to reach your goals and dreams
Acknowledge and appreciate your own worth and well-being
Develop public speaking skills and confidence
Use assertive communication to get your needs and wants met
Create your own personal image and style for success
Give back to the community by sharing your story through outreach programs
Become role models and leaders who advocate, educate, and empower others
How You Can Participate in Transformation Leadership
Select women who have graduated Leap to Confidence will be invited to apply. The application will be released in August. There will be an interview and selection process as enrollment is limited.
Details
The program will be offered weekly on Saturdays starting at the end of October then transitioning to monthly sessions in January 2018.
---
NEXT PROGRAM WILL START IN FALL 2017